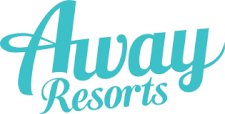 Away Resorts award-winning UK holiday parks across England and Wales are unique in every way, and promise to do every little thing they can to help you make the most of your special break in the UK. Ways to stay include holiday home ownership or hire or bring your own touring caravan or motorhome.
Away Resorts
Away Resorts' choice of holiday destinations offer the perfect opportunity for a family break and that well-needed change of scenery right now. And whatever way you decide to stay - luxury lodge with hot tub, spacious modern family caravan... they are certain you'll have an experience to remember!
Away Resorts believe owning a holiday home with them also inspires you to stay active and healthy. You'll have access to all their park facilities, from indoor and outdoor pools, to gyms, pubs, restaurants and groceries. Nearby to local attractions, they also offer activities and entertainment for the whole family, and they haven't forgotten your four-legged family members either! All their parks are dog friendly so your furry friends can stretch their legs too!
Take a look at their lovely parks locations and start to imagine where you'd like to spend your 'down time' and breaks away. You'll truly look forward to your luxury holiday and frequent getaways with your loved ones– all year round!
If you have any holiday home ownership questions, you can get in touch easily online. They are dedicated to helping you find your ideal lifestyle for you, so no hard sell here! They'll be happy just to answer any of your questions, however big or small, and if you'd like then they can give you a very special tour around any one of their lovely parks.
Away Resorts Happy Place Guarantee
There's never been a better time to become a holiday homeowner with Away Resorts Happy Place Guarantee, which includes;
Which Away Resorts Holiday Park is for you?
As Away Resorts operates a range of holiday parks throughout the UK, finding the best park for you, depends on several factors. We will start with the larger of the Away Resorts that offer some great facilities;
Barmouth Bay in Snowdonia is a large resort. It doesn't have as many facilities as most of the other large holiday parks, but it does have an indoor swimming pool, outdoor cinema, playgrounds and a sports court. The beach makes up for the smaller range of facilities.
Golden Sands in Rhyl in Wales is a large resort beside a beach. The choice of things to do onsite includes a simple swimming pool, games arcade, a choice of places to eat, a soft play, a playground, and a sports court.
Newquay Bay in Cornwall is quite large, but the facilities aren't entirely on the same scale as some other Away Resorts sites. There's an indoor swimming pool, which is bigger than most, as well as an outdoor swimming pool, a surf school, a restaurant, and a playground.
Retallack Resort and Spa in Cornwall is a large and well-equipped resort. There's an onsite watersports place with an inflatable aqua park, wake park, and 'flow rider' which is a surf simulator. It was one of the resorts bought from Aria Resorts in 2022.
Sandy Balls in Hampshire is also one of the large resorts. It has indoor and outdoor swimming pools, sauna and spa facilities, two main restaurants, kids' activities, sports such as archery and laser tag, playgrounds, soft play, and alpaca walks.
Tattershall Lakes in Lincolnshire is a large resort which specialises in watersports such as waterskiing and a floating obstacle course (also known as an aquapark). As well as an indoor swimming pool, there's a large outdoor swimming pool (a 'lido'), a high ropes course, fishing lakes, a restaurant, mini-golf, and a sports court.
The Bay Filey in Yorkshire is another former Aria Resorts site on the larger side. It has some pricier accommodation overlooking the lakes, as well as cheaper apartments and cottages. The indoor swimming pool is a straightforward rectangle, but it's a good size. It's also got a gym, tennis court, boules, a playground, and a restaurant.
Whitecliff Bay on the Isle of Wight is a large resort. There are indoor and outdoor swimming pools, a restaurant, kids' activities, outdoor cinema, soft play, playgrounds, a sports court, crazy golf, and activities such as archery and zorbing (those giant hamster balls).