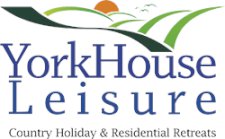 York House Leisure is a family run business that offers a series of award-winning parks for residential and holiday purposes. The company has a history spanning 50 years with a reputation built on high-quality standards, beautiful park locations and park homes.
York House Leisure has something for everyone, whether a family holiday destination or luxury park living. York House Leisure Parks are situated in beautifully maintained, open grounds with state of the art facilities and professional, friendly staff.
York House Leisure
The location of the parks is one of the best selling points of York House Leisure parks. Their holiday parks are developed in choice locations to ensure that holiday guests and park homeowners get value for their money. Also, they provide the perfect escape from all the distractions of city living while providing you with an environment where you can live in peace and tranquillity. And you can enjoy unfettered access to amenities and attractions nearby.
York House offers a portal into the Moors and Dales, the beaches of Scarborough and Whitby, and the fascinating scenery of the east coast. There are golf, horse riding and fishing facilities nearby, and many cycling and walking routes. And if you are looking for a more relaxing activity, nearby towns Harrogate, York, Knaresborough and Ripon are only a few minutes drive away.  Each offers a unique experience with varieties of shopping centres and fantastic restaurants.
The parks have gone through a series of upgrades due to significant investment over the years. They have received several recognitions by the English Tourist Board and Professor David Bellamy, an established and well-known environmentalist.
York House Leisure is devoted to maintaining high standards and is committed to ensuring that the natural surroundings of the parks remain untouched. Reducing the density of holiday homes and an effective planting programme ensured that wildlife populations thrived. Also, the programme has helped to maintain an impressive variety of birds within the park. If you are looking for the perfect park home investment, York House Leisure has a wide range of options in store for you.